Discussion Starter
·
#1
·
it was a great weekend in the sand for sure with a couple little hicups.
it started off by my Dodge fan clutch wiring getting caught in the fan blade at the Glamis Beach Store befor i even got to camp. I cut the wiring out of the way and rolled into camp.
i unloaded the Maverick and went for a rip with the sandcars.
first stop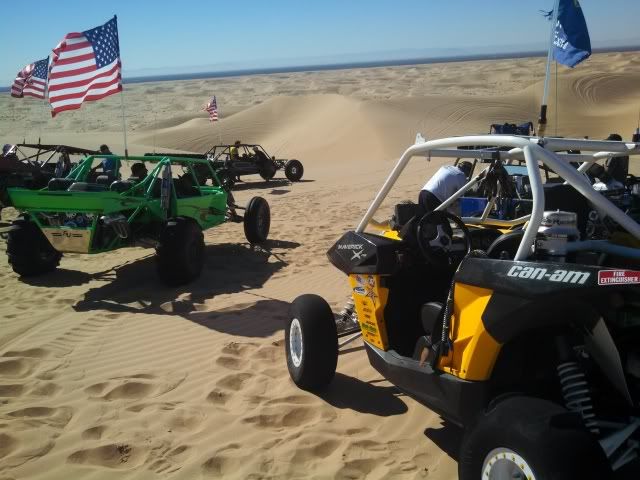 second stop
went to leave after first stop and no power to the dash. Checked all fuses with a test light, pulled all fuses and looked at them, all looked good. So out came out the tow rope and the sand shower began. Once back at camp i pulled each fuse and checked them with a multi meter, i found the dash fuse to be weak and not connecting 100%.
back in the sand again with a little concern of if i will make it. We made it halfway to the night hill and BOOM!! the secondary bolt came out (I have not touched this bolt since the last recall). I broke out the tools and managed to get the cover off and nothing was broken but the helix is pretty trashed. Back on the road and dunning, well for about 1/2 mile. Then BOOM!! again, secondary clutch bolt came out again.
This time we decided just to tow me back to camp. Hooked up tow rope and got 20' and burried the sand car to frame. There was no lifting this 3200# beast out of the sand. Called another sandcar at Olds hill and gave him the GPS coordinates and half an hour later he showed up.
Hooked up sandcar to sand car and pulled second car out and first one got stuck. Then in the roost the second car could nto see and ran into the back of the first car. Bent the bypass and coil over shock shafts. Damn!!
Then we decided that the sand was too soft to tow me and lets try and put my secondary clutch together again. I fought getting the clutch cover off again and installed the secondary, this time using a long prybar to tighten the bolt. Walla, it worked!! WE cautiously rolled into camp at 2:30pm, tired and pissed off.
Next morning, i snapped a couple of sun up shots
Next was to pull Secondary, loctite bolt and torqued to 15psi + 180*. Off to Olds hill to try it out. VROOM!!!!! Made it to Olds ran up the left side and down the middle. Turnned around half way down and motored up the steep part. BOOOM!!!!! again and i hear belt pieces flying around in the clutch cover. Shiat, blew a belt now.
I pulled the cover and swapped in a new belt, but stripped out the secondary bolt spreader. Had to muscle the belt on. Back in the sand again!!!!
Cruised back to camp, breaking the belt in carefully. Made it no problem. Decided to not go for a night run and turnned in early.
Sunday morning get up and hit the sand again. This run was going to be hard and fast just to see if she will stay together. Ran the Maverick hard towards the big dunes, seen some black smoke and decided to investigate. We rolled up on alot of lookyloo's and noone appeard to be hurt. Looks like a Polaris bbq.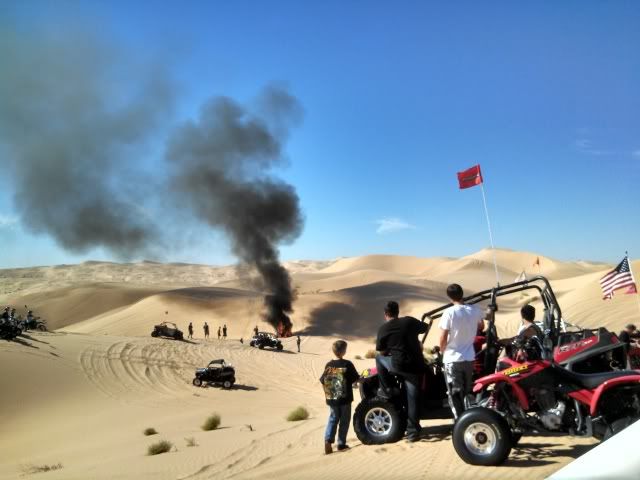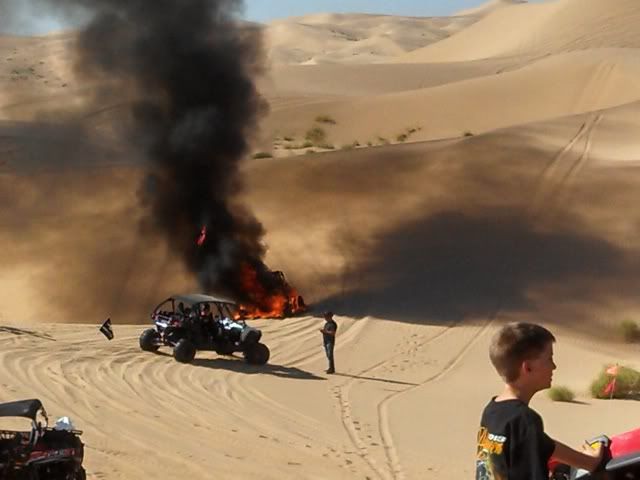 Next was a quick rip to Olds and then through the "roller coaster freeway" towards Big bowl and kept going to Osbourne overlook. Stopped for a quick cooldown and sunset pics.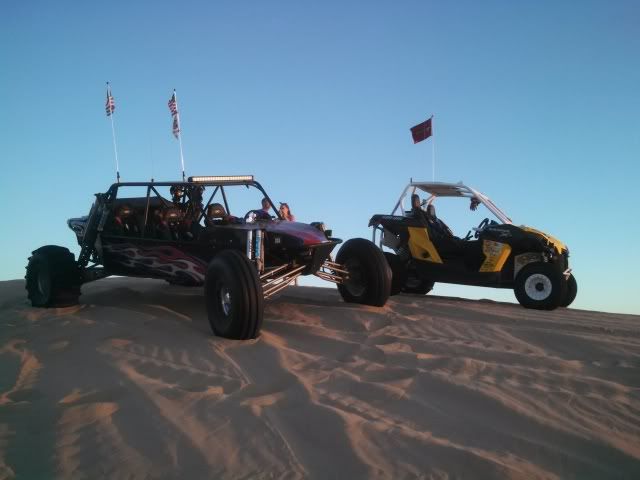 since everything was running good we decided to backtrack through the big stuff and head to camp. Great run again hitting 60mph on the big stuff. yeee-haw!!!!!!
made it back to camp and decided to call it a great trip in the dunes. Packed up and drove home at night while the temps were cool for my truck with a limp fan clutch.