At least for this week.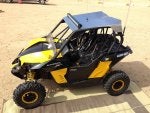 So far I added the Rugged Radios setup which we were able to test this weekend with several other friends and it worked perfectly. The range was decent however I think I need to add some grounding to the antenna. Rugged makes an awesome mount for the radio and intercom.
As I posted before I did several mods to my cage for added strength.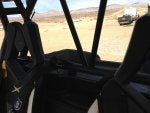 For lights I added 35 Watt HIDs for Low Beams, 55 Watt HIDs for High Beams, Spot/Flood Combo 42 Inch Light Bar and 10 Inch Spot/Flood Combo all from Swerve Off Road
To power the lights and the Radio/Intercom Systems I added a second battery which posted before but now have better pics. I made this entire mod removable.
Pro Armor Belts which I recommend to anyone looking for a comfortable belt, the 5th point really holds you in.
The BRP Nav system, this mount is plug and play. It comes with the Garmin 650t which worked perfectly, is easy to use and for Dove Springs OHV in California knew pretty much every single road. I was impressed.
That's everything I am doing this week. I am sure I will think of something else later. Ran it 60 miles or so the first night and the lights did amazing the battery isolator rocked, never ran out of power. The radios sure do add a nice element to riding with friends. I would suggest getting a Rugged Radio setup for anyone who rides with friends.
Dennis