Discussion Starter
·
#1
·
Hello all,
I am newer here to the forums, finally figured out how to post (thanks Mega!). I have an XRC Turbo R that I purchased a few months ago and am still newer to driving it. Thus far I have been a bit less than satisfied with the build quality on this thing (you can see my post under "Disappointed" thread for specifics). Well, I surely wasn't planning on upgrading the radius rods or rear plate for the rods, but here is why I did:
As you can see from the photos, the rear driver's side camber is way off! It's hard to tell in the photos, but the camber was so negative that the outside tread of the tire was not even touching the ground! This is on a machine with just under 13 hours on it. She is no trailer queen, and I do ride her hard. After washing and putting back in the garage after the last trip, I couldn't believe what I saw!
Thanks so much to the wealth of information on these forums, I found that this was not uncommon (unfortunately), although most do not seem to be as severe as mine. As there is no adjustment and so much slop in this rear end, I figured the only way to properly fix it was to get adjustable upgraded rods and rear plate. So, after much research and self-debate, I ended up going with the CT Race Worx "Maverick X3 72" High Clearance Worx Series Billet Radius Rod Kit", and their "Maverick X3 Billet Proof Radius Rod Plate With Tow Ring".
First, I must give a shout out to Pilotbell222 and the extremely thorough write up that he did regarding the S3 Powersports radius rods. That thread was very helpful and informative. For me personally, it did come down to the final three vendors of ZRP, S3, and CT. Ultimately I went with the CT for the following reasons:
- The metal they use is 7075-T6 aluminum. The only one to use that material. CT gives a nice breakdown of the strength differences between 6061 and 7075 on their website for their rods.
- They are right/left hand thread with joints on both ends for the upper and middle rod. Even though you should not really need to adjust these once they are set correctly, it really is super convenient to have this feature.
- The lower rod has good ground clearance.
- The price upgrade for black was not severe.
I have to admit, I almost went with S3, but on their website, they only offer the rods in bare aluminum. I wanted black to look like the stock ones. I called S3 and asked how much it would be to get all 3 in black. The answer was "$125 - PER SET!!!" That's right, an additional $375 to get them in black! That is quite the cost increase. I also was not keen on the single sided joint on the top two rods. I really did love the uniform look of them though!
For the ZRP, I feel that they have the best ground clearance of the three, and they have an interesting take on them that the top rod is adjustable on the vehicle, the middle is fixed on one end, and the bottom is fixed on both. As you can see on their website, they gain extra ground clearance by also putting a bend in the middle rod, so that is why it must be fixed on one end. I really liked their set up as well, but CT won me over.
Ok, so here are some pics of the process: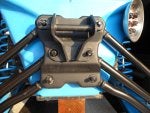 This photo really shows how much play is at the rear plate of this. Even with the stock tow hook.
Oh, I almost forgot, I also installed the Assault Industries Radius Rod Double Shear Bracket Kit. I was hesitant at first because they state that they can only guarantee that they will fit the stock or Assault radius rods. But I figured aftermarket rods will not really change the size where these mount, so I gave it a shot. They installed great. I know, I know, the double shear rear knuckle is the way to go, but $100 vs $1600 is a big difference. Maybe when I win the lotto I will upgrade entire knuckle, lol!
Here is a quick photo to show the difference in size between the stock and CT rear plate (I am holding the plate the wrong direction to match the CT, but you get the idea):
Here is a photo showing the stock vs. CT rod thickness: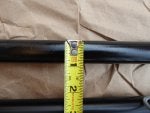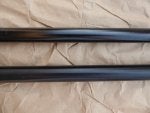 As you can see, there really isn't much difference in size. The stock are actually pretty beefy!
Here is a shot of the lower rod difference:
Ok, now a shot with the CT and Assault installed on the driver's side:
And now the finished product (note that it is sitting extra high as I just lowered it from the jack, so it has not settled; but I do have my suspension set up pretty tall):
Oh, yes, I did make sure to adjust the new rods to the stock length before installing them. I think that this next photo really speaks volumes as it shows that with the same length rod as stock, but everything where it now should be due to the tight tolerances, the tire is now sitting with almost perfect camber!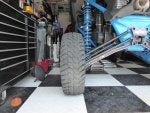 I will update this as soon as I am able to do the alignment and then take it out for a spin! It may be a while though as it is HOT in So CA right now! I am melting at my house, let alone going out to the desert! So far, so good, I am happy. Now let's see if they can really take some abuse!
I hope that this helps anyone out there who is still looking at getting some radius rods. The fit and finish on the CT Race Worx is great! With labor day just around the corner, they will probably go on sale as well..... Thanks everyone! Hopefully I did this post correctly.