Discussion Starter
•
#1
•
Here's the detailed rundown with photos for Aerocharger's
Can-Am Maverick turbo kit
.
THE AEROCHARGER CAN-AM MAVERICK TURBO SYSTEM

AT A GLANCE:
Price:
$6000.00 for the Air to Air Intercooled Can-Am Maverick Turbo System.
Turbo:
Aerocharger 53 Series.
Trim:
114 Compressor/ 250 Turbine. This configuration will offer an excellent balance of power and efficiency. Aerocharger carefully sized this turbo to produce the snappiest throttle response possible on the Can-Am Maverick.
Boost:
Can be operated from 4psi on up. The turbo ships pre-set with a 5 PSI boost spring, and a 9 psi boost spring is also included. Watch this video to see how to easily
adjust the boost on an Aerocharger
.
Fuel:
For unmodified engines, use a minimum of 91 octane fuel at 5.5psi, 100ll (aviation) fuel for boost up to 7.5 psi, and 110 octane race fuel for any boost level greater than 7.5 psi.
Performance Gains:
For unmodified engines with a standard configuration, this system is capable of producing 50-110 hp over stock. Powertrain upgrades are recommended for boost levels greater than 10psi. This system is rated at over 300 hp – the Aerocharger is a variable vane turbo with a very wide efficiency range, and this system has plenty of room for upward expansion. The Aerocharger Can-Am Maverick turbo kit is compatible with engine mods such as big bore kits or lower/higher compression. Contact Aerocharger for recommendations on any high-boost setup.
Power Band:
Conventional turbo systems may attempt to mask slow turbo response through clutching or electronics, but this can limit your clutching options, hurt low-end power, and ultimately make the vehicle less fun to drive. Luckily, turbo lag is a non-factor for the Aerocharger. The Aerocharger vane assembly allows the turbo to function as a small turbo on the bottom end for rapid spooling, and a big turbo on the top end for large power. This creates an extremely fun driving experience where power is tied right to the throttle. An ultra-responsive, high performance power band makes the Aerocharged Can-Am Maverick much more drivable than conventional turbocharger technology.
Here's a look at some of the components that ship in this kit.
AEROCHARGER 53 SERIES
VATN Technology:
Aerocharger's powerful variable geometry tech optimizes turbine size, producing lag-free boost. Excellent performance for high altitude and technical riding.
Independent Oil Supply:
The Aerocharger contains its own oil supply allowing for clean and fast installation, with reduced risk of complications when riding. This turbo does not require oil lines to be run from the engine, weakening the stock oiling system. It is only necessary to check the oil annually and top off as needed.
Non-Flooded Bearings:
Innovative oil misting system allows for drag free bearing performance and ultra-fast spooling. A substantial performance increase over conventional ball-bearing turbochargers.
Total Exhaust Use:
100% of exhaust gasses pass through the turbo, eliminating the need for energy-sapping waste gates and spark arrestors.
D5S NiResist Alloy Construction:
This premium aircraft-grade metal contains up to 38% nickel, with corrosion resisting properties that are better than stainless steel.
AEROCHARGER COMPONENTS: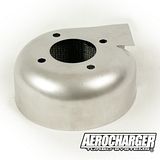 TURBO ACCESSORIES:
Cerakoted heat shield, turbo oil, gaskets, and all other necessary parts and fittings are included for the Aerocharger unit.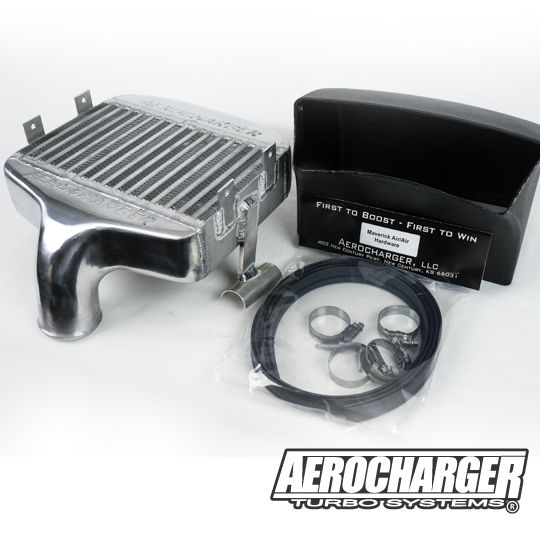 AIR/AIR INTERCOOLER:
The Can-Am Maverick turbo kit comes with an Air/Air intercooler to efficiently drop charge temps without any additional load on the stock system. Installs into the hood to free up space for accessories in cab and cargo areas, and a formed ram-air scoop forces clean, fresh air through the intercooler core.
POWERJET COLLAR:
The Powerjet Collar attaches between the stock air plenum and the throttle body. A pre-installed Powerjet Injector delivers fuel under boost.
FUEL CONTROL:
The Powerjet is controlled by Aerocharger's pre-programmed fuel controller. For almost all riding conditions, it is plug-and-play right out of the box.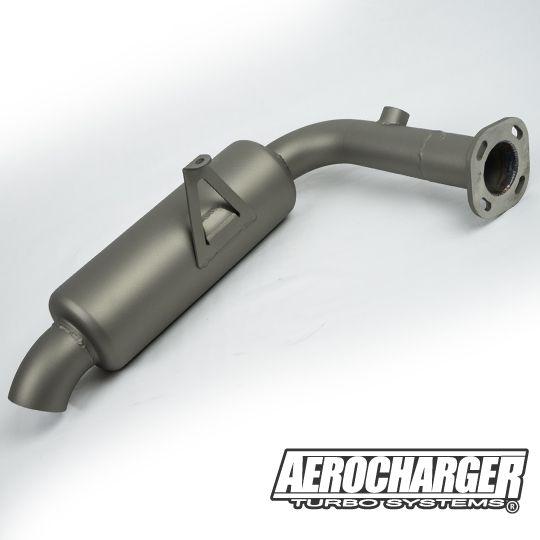 EXHAUST:
The y-pipe bolts from the stock engine headers to the turbo, and a high-flow muffler assembly bolts right on to the turbo to reduce system backpressure. All pipes are treated with premium Cerakote high-temp ceramic coating.
]
PRIMARY CLUTCH ASSEMBLY:
A complete Primary Clutch assembly by TEAM Industries is provided in this package to replace the stock primary. This clutch was selected for superior reliability and performance under turbocharged operation. A new primary spring and adjustable clutch weights are included to complete a custom setup, with our recommendations for different boost levels and elevations. This Primary Clutch assembly ships pre-set for 5 PSI.
ALSO INCLUDED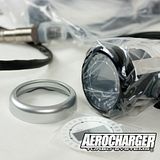 Boost and AFR Gauges:
Gauge included for easy reference. The AFR Gauge's color display has excellent on-the-fly readability.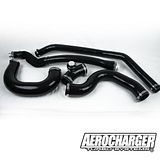 Silicone Charge and Intake Tubes:
Silicone construction for durable, efficient performance.
DONALDSON FILTER:
Industrial filter element provides the ultimate air filtration.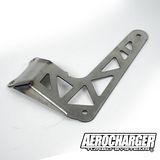 Turbo Support Bracket:
Attaches to the vehicle subframe to stabilize the turbo.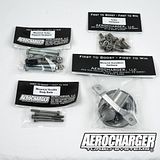 Hardware, wiring, and boost lines:
Some stock bolts will be reused for the turbo install, and all other needed hardware is included. Aerocharger exhaust bolts pre-treated with anti-seize for your convenience.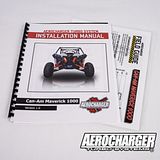 Reference Materials:
Manual, quick start guide, turbo guide, templates and stickers are included for simple installation.
INSTALLATION AND SUPPORT:
Aerocharger engineers are available for troubleshooting and advice for the life of the product. All Aerocharger systems are designed so they can be installed by someone with basic wrenching skills and typical garage tools - clutch tools will be required to adjust the clutching on this vehicle.
The Aerocharger
Can-Am Maverick Turbo Installation Manual
and Field Guide are also available in PDF Format for your convenience.
Aerocharger has also produced a video walk-through of the installation. It is titled to correspond to the section headings in the install manual for easy reference.
Since 2008, Aerocharger systems have been the only side-by-side turbo kits developed directly by a turbo manufacturer. Our goal has always been to bring the most complete, most efficient, and easiest to install kit to meet our customer's needs for big power. BRP has made a very fun platform with the Can-Am Maverick, and we're happy to help our customers unlock the full power potential of their 1000 CC Rotax engines. Reach us at (913) 829-3400 or post us any questions here, and we'll be happy to help you get some boost into your Can-Am Maverick today.