Discussion Starter
·
#1
·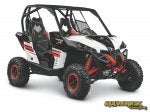 ​
The Maverick 1000R X xc DPS package is inspired by the highly popular Can-Am Renegade 800R and 1000 X xc packages from BRP. The all-new X-package Maverick includes a narrowing kit and FOX 2.0 Podium X Performance shocks with 12 inches of travel to help it tackle the tighter woods and trails. This system has been thoroughly tested, raced and influenced by Can-Am Maverick side-by-side racers who compete in the Grand National Cross Country (GNCC) series.
60-INCH WIDTH
Can-Am engineers outfitted the Maverick 1000R X xc with a narrowing kit to reduce its overall width from 64 inches (stan- dard Maverick 1000R and 1000R X rs) to 60 inches wide. This narrower stance, which features -2-inch shorter front and rear A-arms, helps to create a more woods ready Maverick 1000R.
FOX 2.0 PODIUM X PERFORMANCE PIGGYBACK SHOCKS
Premium FOX 2.0 Podium X performance shocks, front and rear, come standard on the Maverick 1000R. The re-buildable piggyback shocks feature adjustments for preload (dual-rate spring), and compression. The shocks are designed to be lightweight yet durable to withstand extreme use. The FOX shocks feature a hard-anodized aluminum body, forged piggyback body cap, hard chrome plated, heat-treated shaft, upper and lower bearing mounts, racing-developed high-flow piston and specially formulated oil for optimal performance at variable temperatures.
TRI-MODE DYNAMIC POWER STEERING (DPS)
Calibrated specifically for use in the Maverick 1000R side-by-side family, BRP's Tri-Mode DPS system offers variable steering assistance and is designed to offer less assist at high speed and more assist at low speed. It also allows the driver to dial in his or her preference with three modes (Hi, Med, Lo).
VISCO-LOK QE
All DPS-equipped Can-Am side-by-side vehicles include Visco-Lok QE calibration giving an even quicker engagement of the front differential. It progressively transfers power from a slipping front wheel to the gripping one – automatically with no buttons to push or levers to pull. Plus, there's no wheel hop or driveline wind-up so the system is totally transparent to the driver and extremely easy to steer. Can lock up to 100 percent with no rev or speed limiter. This differential, unlike some competitor's differentials, does not have a speed or rev limiter. DPS and Visco-Lok QE, when, combined, improve handling and performance in slow-speed technical terrain.
12-INCH ALUMINUM BEADLOCK WHEELS
The Maverick 1000R X xc DPS uses same 12-inch aluminum center-less, computer-optimized wheel design as the standard Maverick, but also mates a full-function yellow beadlock (mechanical fastening device) that makes it nearly impossible for the tire to break its bead from the wheel during heavy acceleration or cornering.
UPDATED 3-D ANALOG / DIGITAL GAUGE
The Maverick 1000R X xc DPS has an upgraded gauge over the base model and now includes a 3-D background for enhanced visual clarity. Featuring state-of-the-art instrumentation with an analog tachometer and speedometer combined with an advanced digital information center.
TWO COLOR SCHEMES WITH X-PACKAGE GRAPHICS AND SEAT TRIM
The Can-Am X-Team-inspired black-and-yellow plastic is joined in 2014 by an all-new white with black and Can-Am Red color schematic. Both colors include X-package graphics and sponsor logos to enhance the high-performance looks.
For more discussions on the new 60" Maverick, check out:
http://www.maverickforums.net/forum/44-can-am-maverick-1000r-x-xc